Awake in New York
January 22 2012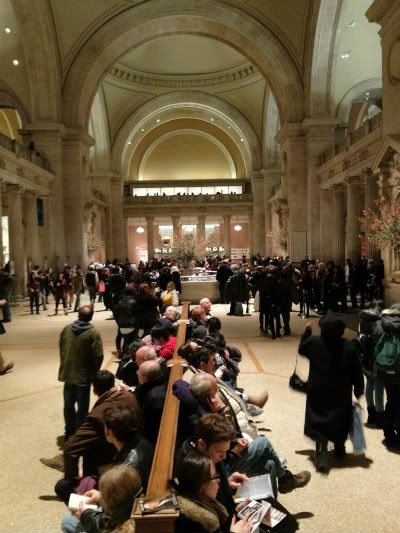 Picture: BG
Greetings from a snowy New York, where I 've come to view the Old Master sales at Sotheby's and Christie's. I flew in yesterday afternoon, and will leave later this evening (Sunday). My flight on Delta was suddenly cancelled with only a few hours warning on Friday evening, and, having spent over two fruitless hours on the phone trying to rebook, I eventually managed to get a flight via Paris by contacting the airline on Twitter. It's amazing what a rant in under 140 characters can achieve these days. The schedule is a little tight, but it gives me enough time view the sales, say a few hellos, and get back to the office for Monday morning.
It also means I can stay roughly on UK time, so here I am, awake and waiting for breakfast to begin. I've tried the telly, but it's only 'infomercials' at this time (my favourite so far, 'The Brazil Butt Lift - For the Butt of Your Dreams', $49.99), and replays of Newt Gingrich's victory speech after his win in the South Carolina primary last night. It seems he may now have the momentum to go on and win the nomination. Yikes.
Regular readers will know that when it comes to New York, I tend to take the view of Kenneth Clark - wonderful from afar, 'but up close it's another matter'. I know some readers in the city won't like that - but don't worry, I've always liked New Yorkers. My mother is American, and I've spent a lot of time here over the years, mainly in Washington, which is more my kind of city. I like a bit of space every now and then. Still, New York is one of the best cities in the world when it comes to the arts. The new Renaissance Portraits exhibition at the Metropolitan Museum is worth the trip alone at the moment (closes March 18th).
As a former arts policy wonk, I always like to see the differences between the way museums are run in London and New York. Here, since there is very little state support, museums tend to be more responsive to their visitor's needs. So if you want to go the Metropolitan late on a Saturday night, fine, it's open till 9pm, with restaurants and live music. As you can see above, it was busy when I went at about 7.30pm.
Wouldn't it be nice if all museums in major cities were open late in the evenings - not least so that the people who actually live and work there could spend more time in them. Otherwise museums tend to become the preserve of tourists. There was a nice atmosphere at the Met last night, a sense that people were really using the art as a means to unwind, as well as learn. A strangely high number of dating couples too. We should do more of this in London.
Now - I'm off to find bacon...